What can I say that I haven't already said?
I would like to first start with "Thank you."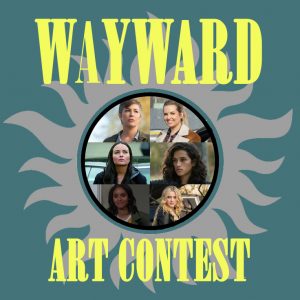 Thank you to everyone who submitted and showed their love and support for Wayward and the wonderful talents behind it. Thank you for breaking out of your comfort zones and believing in yourselves and this project. Thank you for all your drawings, your poetry, your stories, your crafts, your videos. Thank you. Without you, there is no "art contest."
Thank you to the amazing ladies who stood with me and helped me pull this off. Thank you to Alana, Lynn, Shelley, Jodi, Janet and Zerbe. Without you believing in this contest and in Wayward itself, this would never have happened, at least not on the scale that it did. Thank you for donating your time and your wares for this project and for supporting it and promoting it as much as you did. I am forever indebted to all of you for joining with me on this.
Thank you to Kim, Briana, Katherine, Kathryn, Clark, Yadira and Bobo for giving us something to rally behind, characters to love and a story we want to see realized. None of this would have been possible if you hadn't laid the foundation with these characters. Thank you for giving us the opportunity to see ourselves in these characters and to feel heard and represented in media. Thank you for expanding the Supernatural universe and giving a new, fresh pair of eyes into this world.
Thank you to the Wayward Daughters for turning a spinoff idea into a movement, a real force for change in this world and a loving home for all us Wayward souls. You have been changing lives over the last couple of years and it's amazing what you and the Wayward movement have been able to accomplish in that amount of time. Thank you for making this about more than just a spinoff, but about empowering people and showing people that they are capable of more than they realize.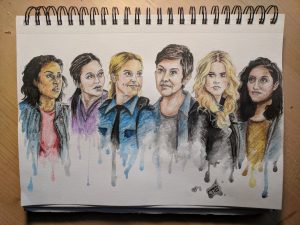 Second, congratulations.
Congratulations to our runner up, Alicia B. and our grand prize winner, Taylor S.!
Alicia (@barr_alicia) submitted this wonderful video tribute to our Wayward ladies.
Taylor (@taylorsadlowski) submitted this gorgeous drawing of all six Wayward ladies.
Finally, WHO'S READY TO GET WAYWARD?
Show your support and love for Wayward on January 18th with the premiere of the backdoor pilot. Watch live (if you can), live tweet using the hashtags #Wayward, #WaywardSisters, and #Supernatural, tag the powers that be (@TheCW), watch on the CW app and online (those count towards views and ratings) and SHOW YOUR SUPPORT. We fought this long and hard for a pilot. Now we have to keep fighting to see these kickass women in their own series. We're not done yet.
Also, please watch the Wayward documentary by Alana King. The documentary and the people in it perfectly encapsulate and explain why we need a show like this.
Please show your support for this show, these women, and this project. Support it because it's a chance for us to see and explore the world of Supernatural. Support it because it's helmed by passionate people who have worked hard and given their all to get to this point. Support it because it's going to be a great show.
Love,
Elizabeth