About the Workshop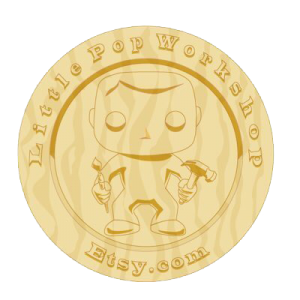 The Little Pop Workshop started in October 2015 as a place where fans of the Little Castiel Funko family could order their own custom Funko Pops like Little Gabriel, Little Chuck, and Little Claire Novak. It has since expanded to offer more customs in more fandoms, like our popular Timeless, Bones, and Castle collections, as well as offer the opportunity for customers to immortalize themselves in Funko style!
The Workshop is the brainchild of Elizabeth, who designs and handpaints each figurine that leaves the Workshop.
The Workshop has made Funkos for a variety of fandoms and programs and films, such as Supernatural, Doctor Who, Castle, Timeless, Once Upon a Time, Firefly, Parks and Recreation, Brooklyn 99, Wynonna Earp, The Princess Bride, Star Wars, Star Trek, Kings of Con and Archer. You might also find "Popped" cast members of the hit CW show Supernatural in the Workshop, from Rob Benedict, Richard Speight Jr and Emily Swallow in their 2017 Karaoke attire, to Jensen Ackles, Misha Collins and Jared Padalecki in their Halloween EW cover shoot outfits, to Kim Rhodes, Briana Buckmaster, Samantha Smith, Lisa Berry, Alaina Huffman, Ruth Connell, Shoshannah Stern, Danneel Ackles and Genevieve Padalecki re-imagined as
#WaywardWonderWomen
. The Workshop works hard to appeal to fans of all ages and all fandoms and if you don't see your favorite character or person in the shop, you can request a custom figure of your very own.
Come and see what's new in the Workshop!
About Elizabeth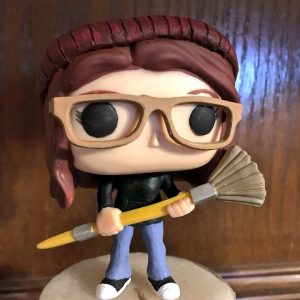 Elizabeth is a journalist-turned creative writer who loves nothing more than curling up with her laptop to write fiction and poetry. When she's not writing, she's painting, cosplaying at comic conventions, or trying to catch up on reading from her overflowing bookshelves. She's a self-professed nerd in love with all things Marvel, Supernatural, science fiction, and fantasy. She currently resides with her cat son, Dean, and is finishing a master's program in Creative Writing. She began customizing Funkos in 2015 with the creation of Little Gabriel and hasn't looked back since.