It's rare these days I get to road trip, and road trip with family no less.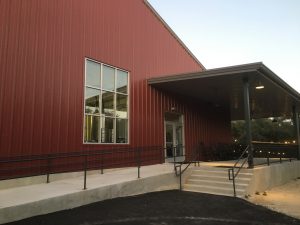 So today, I took a road trip with my mom to the Family Business Beer Company in Dripping Springs, Texas. What is the Family Business, you might ask?
Well, it is a newly-opened craft brewery owned by Jensen and Danneel Ackles (yes, that Jensen and Danneel), Danneel's brother Gino Graul and her parents Ed and Debby. It opened just Wednesday and even five minutes inside, you can tell that it was built from the ground up with love and dedication.
It's nestled in the Texas Hill Country, which makes the drive there scenic and gorgeous. Long stretches of the drive reminded me a lot of driving through Kentucky mountain roads with my grandfather when I was a kid. Coming from Houston, it took a while, but we made the most of the driv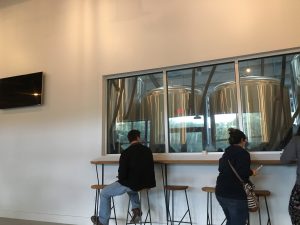 e.
When we walked in, we were greeted by smiling and sweet staff members who checked our ID and then we went into the tap room. There are huge windows where you can look in and see the brewing floor and equipment, which for someone who knows absolutely nothing about the process is kind of neat to watch and see. It's a space that has a relatively small physical footprint when you go in, but the ceilings are tall so it feels open and inviting.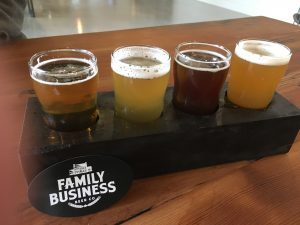 The layout draws your eye almost immediately to the bar which is staffed by friendly and knowledgeable people ready to help you pick one or even a flight of beers to try. Thank you to the staff member (I'm sorry I didn't get your name >_<) who was so patient with me as I am a novice at beer drinking and had no idea what I wanted to try or even what I would like to try. My mom helped me pick some she thought I would like, and I ended up doing a flight, including their newest one "The Ocelot" which they had just debuted that day. Out of the ones I tried, The Ocelot was probably my favorite. It was very sweet which was perfect for me cause I have a serious sweet tooth. If you want to check out what they currently have on tap and descriptions for each, check out their website.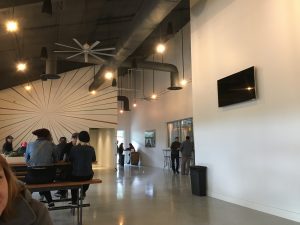 In addition to seating inside, there's a patio outside and benches out in the yard area for even more seating. For food, they currently have a food truck parked outside owned by Jep Robertson of Duck Dynasty fame and his wife Jessica, called Jep's Southern Roots, which serves Southern and Cajun fare.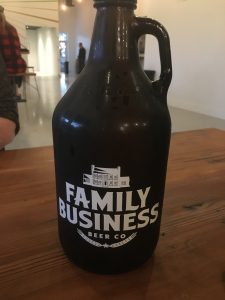 According to their website, they will be featuring live music and outdoor games as well. You can also purchase t-shirts and what they call a "Growler" (at left), a jug with the Family Business logo on it that you can buy empty (just to have the jug) or with your favorite beer in it.
If you're going to make a road trip to Texas, I highly recommend adding The Family Business Beer Company to your itinerary. Come for the fun and inviting atmosphere, the great tasting beers and the beautiful views of the Texas Hill Country.
Love,
Elizabeth