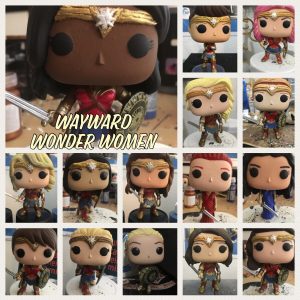 The Wayward Wonder Women was a nugget of an idea I had after I saw Wonder Woman in the theaters for the first time.
The film got me thinking about all the powerful women I knew and Kim Rhodes and Briana Buckmaster popped into my head and I wanted to make a Wonder Woman/Wayward Daughters mashup of them. I started with Jody Mills and Donna Hanscum (bottom left two).
I've kept adding to the collection, as you can see in the graphic on the left, since with Danneel Ackles, Genevieve Padalecki, Lisa Berry, Alaina Huffman, Ruth Connell, Kathryn Newton (as Claire), Katherine Ramdeen (as Alex), Samantha Smith, Emily Swallow, Shoshannah Stern and Rachel Miner in the group too, with plans for more. I love the idea of making these inspiring and powerful women into Wonder Woman because they are Wonder Women.
I also had the original Wayward Wonder Women (Jody Mills and Donna Hanscum) as part of a shirt campaign to raise money for Family Promise of Lake Houston, a local charity I support that helps families get back on their feet after circumstances like loss of a job, loss of a family member or loss of their home.
I love raising money for charity, so I am considering a second Wayward Wonder Women campaign.
Vote in the poll below if you're interested.
Would you participate in another #WaywardWonderWomen campaign?