Yes, it's exactly what you're thinking.
Scooby Doo and Supernatural are going to crossover. On March 29th, the boys will be sucked into Scooby's world through a cursed television and get to solve a mystery with Mystery Inc. The episode is based on the season one episode "A Night of Fright is no Delight," which featured the green phantoms as they tried to scare Scooby out of an inheritance.
Scooby Doo and his friends were such a huge part of my childhood. Velma was one of the first "nerdy" girls I'd ever seen in media and I loved the antics of Scooby and Shaggy. Sure it was always a man in a mask, but I loved it anyway.
Supernatural, as you probably know from perusing my galleries and my blog, is my big passion, and I'm excited to see my childhood and adulthood collide.
In anticipation of the episode, I've created some one-of-a-kind Pops that I will be auctioning off to raise money for Random Acts' Dreams2Acts fund.
Random Acts is a nonprofit charity run by Supernatural actor Misha Collins that I have supported in the past and am proud to support again. Dreams2Acts is one of their many charity projects which is centered around the Free High School of San Juan del Sur in rural Nicaragua. This school has been in operation since 2002, giving students who are excluded from regular schools a chance at secondary education, including women with children, anyone over eighteen, people who work on weekdays to support their families, and those who live too far from the city to attend daily high schools. In 2015, construction began on a campus for the school, so it could better serve its students. Volunteers with RA have been raising funds and going to Nicaragua since 2015 to help construct the campus. The Dreams2Acts project supports education and empowerment, two things that I hold dear.
So I will be auctioning off these one-of-a-kind Scoobynatural Pops to raise money for this incredible project.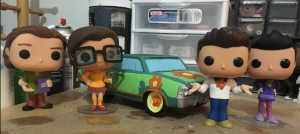 All five of these Pops will be up for auction starting Monday, March 12 at noon CST.
They will be in separate lots (so each figure will have its own auction.) The auctions will last for seven days on my eBay. Links will be posted on social media and in this post when they go live.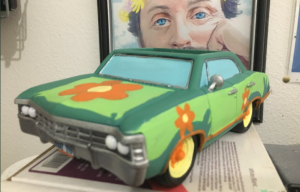 Please note that these will not have custom boxes. The Impala will come in the original Funko Baby with Dean box, and each of the gang will come in original Scooby Doo boxes.
The response online to these has been extraordinary, and I thank each and every one of you who commented, liked, and retweeted them. I can't wait to see these go to a happy home and to raise some money for Random Acts!
Don't forget to tune in to Scoobynatural on Thursday, March 29th at 8/7c on the CW!